When Dae Breaks
by Nikki Rose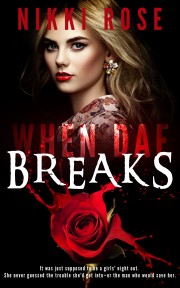 It was just supposed to be a girls' night out. She never guessed the trouble she'd get into—or the man who would save her.
Rachel Dae fell fast for Ian, the tall, dark and sexy man who saved her outside a local club. But when her childhood-crush-turned-best-friend Anthony needs her help dealing with being a newly single dad, unresolved feelings ignite, jealousy peaks and tempers flare as they spend time together.
But, Rachel's life is about to get a lot more complicated. One mysterious call changes everything when a distorted voice on the phone forces Rachel to choose between crossing an ethical line to send an innocent man to prison or risking the lives of everyone she loves.
Reader advisory: This book contains a scene of attempted sexual assault.
General Release Date: 26th February 2019
READ AN EXCERPT: https://authornikkirose.wixsite.com/home
Buy it now!
When Rachel Dae is approached by a drunk man and forced against a wall in a dark ally, she fears she made a big mistake going out for air. That is until a dark and sexy stranger saves her. What she doesn't expect is her whole world to change.
Anthony has been Rachel's best friend for years. Rachel has had a secret crush on him, but the timing was never right. Imagine her surprise when he breaks up with his girlfriend of 6 years and separates off to raise his daughter on his own. His ex is a handful and a drunk. But he can always count on Rachel to have his back.
Rachel finds herself in a predicament when a strange caller threatens her and those close to her. Either she turn over information on her client and the witnesses or someone gets hurt. Rachel is scared and doesn't know what to do or who to turn to. But then one evening Anthony is in an accident and Rachel leaves her date to be there for him. But was this an accident? Is this related to the caller? I can tell you this, Ian does not like the fact that Rachel ran straight to Anthony. Tempers begin to heat up and Ian's jealousy is out of control. Rachel must decide who will have her heart.
Rachel's life is out of control and she doesn't know who to trust. Can she keep those close to her safe? Will Rachel chose life or death?
This book is a twisty hot suspense! It will have you on the edge of your seat the entire time. Not only is there hot sexy love triangle, but a lot of danger and suspense that will have you saying oh my!! It is a roller coaster ride of danger and lust. Let me tell you that the ending of this book had such a holy shit moment that your jaw will fall on the floor and you will say damn…..I did not see that coming.
Overall this book is extremely exciting. All the suspense, lust, and twist will make your head spin. A steady paced read that will keep your interest drawn in tight. I did feel the ending is missing a couple things where some of the loose ends remained loose. Maybe there will be a part II. Hmmm…maybe.

This is the second book by Nikki Rose that I have read and I got to say I was not disappointed. She is an excellent writer, who knows how to draw her readers in with, deep and suspenseful reads. Her characters are deep and intriguing. With twist that make the stories exciting and fun to read. I know my heart raced a few times with all the action going on.
I highly recommend this book to anyone who enjoys an action packed great suspenseful read full of twists, danger and great characters. You will not be disappointed in this read.
About Nikki Rose
For as long as she can remember, Nikki Rose has enjoyed writing stories. For years, writing was just a hobby for this South Carolina native. It was a way to let out all the stories floating around in her head. After one of those stories took on a mind of its own, outgrowing even the parameters of a single book, Rose knew she had to pursue her dream.
Married to her high school sweetheart and best friend, Rose feels she is truly living out a romance story of her very own. As a stay at home mom of two, she is blessed with the time needed to work on her writing career full-time while her kids are at school or in the wee hours while normal people sleep. She considers herself a music obsessed chocoholic and hopeless romantic who enjoys weaving romance stories with a healthy dose of mystery and suspense .
Want to connect with Nikki Rose?