His Banana
My new boss likes rules, but there's one nobody dares to break…
No touching his banana.
Seriously. The guy is like a potassium addict.
Of course, I touched it.
If you want to get technical, I actually put it in my mouth.
I chewed it up, too… I even swallowed.
I know. Bad, bad, girl.
Then I saw him, and believe it or not, choking on a guy's banana does not make the best first impression.I should backtrack a little here. Before I ever touched a billionaire's banana, I got my first real assignment as a business reporter. This wasn't the same old bottom-of-the-barrel assignment I always got. I wasn't going to interview a garbage man about his favorite routes or write a piece on how picking up dog poop from people's yards is the next big thing.Nope. None of the above, thank you very much.
This was my big break. My chance to prove I wasn't a bumbling, clumsy, accident-prone walking disaster. I was infiltrating Galleon Enterprises to follow up on suspicions of corruption.
Cue the James Bond music.
I could do this. All I had to do was land the position as an intern and nail my interview with Bruce Chamberson.
Forget the fact that he looked like somebody carved him out of liquid female desire, then sprinkled on some "makes men question their sexuality" for good measure. I needed to make this work. No accidents. No disasters. No clumsiness. All I needed to do was hold it together for less than an hour.
Fast forward to the conference room before the interview, and that's where you would find me with a banana in my hand. A banana that literally had his name on it in big, black sharpie. It was a few seconds later when he walked in and caught me yellow-handed. A few seconds after that was when he hired me.
Yeah. I know. It didn't seem like a good sign to me, either.
I bought this book as an impulse buy.  I got to say with a cover and title like that, I was intrigued.  Oh my word this book was funny!  I laughed so hard.  And to think it all started with a banana in the mouth!  😉  Love it!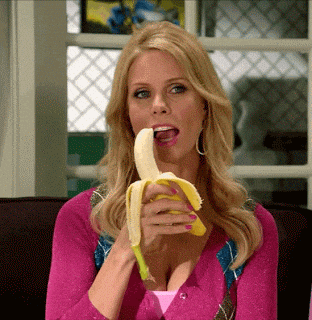 This book is not only funny, but it is hot!  The characters can make or break and book and these two characters, I got to say they make this book.  It was so much fun to read the banter between Bruce and Natasha.  They truly had that love hate relationship down to a science.
Bruce tends to be a hard ass, but really underneath he is a heartbroken sweet heart.  He has been hurt bad in the past and his past is still haunting him.  So he now has the motto, never make the same mistake twice.  So why date.  Well he doesn't, because that would be mistake #2.
Natasha has a pretty tough life.  She is cute sweet, inexperienced and has no grace at all.  But she is tough as nails.  She is independent and a great writer.  Except she is under appreciated in her job, always getting the bottom of the barrel assignments.  So when the undercover reporter story is dropped in her lap, she is all over it.  This is her chance to shine.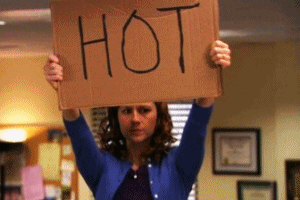 I have read several of Penelope's books and I got to say this one was my favorite.  Her writing style is amazing.  She really knows how to create the perfect rom-com.  She takes sweet and fun and mixes in a bit of dirty hotness.  Add in a dominating alpha male and you got yourself one heck of a book.   Her books always have interesting and fun characters, with very entertaining story lines.  If you never read one of her books then I suggest you start now.