Hello Peeps!  It is our favorite day of the week….HUMP DAY!!!!  Woohoo!  If you have been a part of my blog peeps a while, then you know what to expect.  If not here is a clue for you….Hot Books and Hot Men!  Do I have your interest yet?
OK Peeps, this week's Hump Day is dedicated to BDSM Romance.  Yep a little dark erotic romance for the curious and not so curious.  "wink wink"  I have been seeing a lot more talk on the BDSM type books or dark romance as some call it, as of late.  Mostly due to the fact that Fifty Shades Freed released last week.  Raise your hand if you have seen it yet.  I am quite sad to say I have not seen it yet, but I read the book.  😀  Well opinions..???… Anyone?  Does the movie do the book justice???
Bondage
Domination
Submission / Sadism (depending on who you ask)
Masochism
Well in honor of Fifty Shades of hotness we will start off with dark romance books and then a finale of $0.99 or Free on KU books.  Everyone ready?  Tell me what your favorite is…..
BDSM/Dark Romance Series
Fifty Shades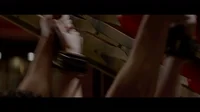 Crossfire
Hacker
Stark Trilogy
Bonds
Addicted To You
Obsidian
Buttons
A Kelly Black Affair
Sheer Submission
Standalone Reads
Romance $0.99 or Free on KU Books
HOT PINTREST ALPHA MALES
Who do you want to be your Christian Grey?
This Hump Day brought to you by: