Chosen
R.S. Broadhead
(The Urban Legends Series)
Publication date: October 24th 2017
Genres: New Adult, Supernatural, Thriller
Black eyes. No emotion. No sympathy. Only emptiness.

Piper McAdams's life was normal. Career? Check. Boyfriend? Check. Friends? Check. One unsettling run in with a homeless man turns everything from normal to terrifying. She begins seeing…things.

Things she can't seem to explain or make any sense.

As if things aren't already getting out of hand, Piper receives news that the only family member she has is dead. She thinks maybe a trip across the country to her hometown will get her away from all the strange events happening.

After a late night accident, Piper isn't in her hometown burying her loved one. She's in a town called Hell. All she wants to do is leave, but the people seem to be holding her there for some reason.

A reason she feels threatens her life. Around every corner things become darker and scarier.

Can she escape what is coming for her?
MY REVIEW
Wow!  Just Wow! This book is creepy as hell.  Great read to get you into the Halloween 🎃 spirit.    
Piper sure has been through alot with the abuse at the hands of her father, then his disappearance, living with her grandfather only to be sent away for college.  After college she started a new life in New York.  New job, boyfriend and friend.  Everything is perfect.
Perfect doesn't last long when everything suddenly falls apart.  She gets a call about the unexpected death of her grandfather.  Her boyfriend chooses his family over going with her to Alabama to bury her Grandfather.   So she goes alone.  She starts having nightmares and then strange things start happening.   Then she starts seeing black-eyed children watching her.  Totally creeped out she decides to look into her grandfathers past. When secrets are slowly uncovered she realizes it may be too late.  She is alone and scared and doesn't know who to trust.
This book has the creep factor in high effect!  A page turner from the beginning, keeping you on the edge of your seat!  With so many twists and turns you won't know what to think.  It will give you chills, making the hair on your neck stand on end.  It has many "I didn't see that coming moments."  Let's talk about the creepy ass black eyed kids.  Move over "Village of the  Damed"  theres a new group of kids in town.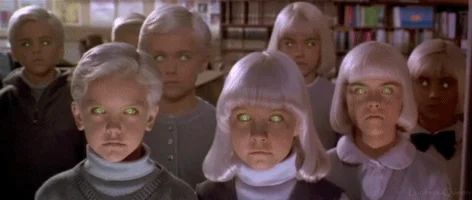 This is the first book.by Ms. Broadhead I have read.  I was very impressed.  Her imagination in the land of horror to create this story could give Stephen King a run for his money.  This story could easily be the next urban legend to pass down scaring people for many generations.
Author Bio:

R. S. Broadhead lives in Jackson, Alabama with her husband of ten years, their two little girls, and a pug named Wednesday Love the Duchess, or Winnie for short. She has a bachelor's in psychology and a master's in business administration. She loves to snowboard, travel (Australia is her favorite place so far), and dance (not professionally, just whenever she feels like it). When she was sixteen-years-old, her and her friends would take pictures and make up funny stories about them. Fourteen years later, UNVEILED was born. UNVEILED, her first novel, is the first book in a four book series.
October 16th
–Chill and read >> Excerpt
–anie's blog: diary of a wannabe writer >> Review
October 17th
–Nadaness In Motion >> Guest post
–The Loaded Shelf >> Excerpt
October 18th
–Silence Is Read >> Excerpt
–Celluloid Diaries >> Guest post
–Rainy Days and Pajamas >> Excerpt
October 19th
–C Exley Books >> Excerpt
–fundinmental >> Excerpt
October 20th
–So Few Books >> Interview
–Mythical Books >> Review
–Book Addict >> Review
—
October 23rd
–Am Kinda Busy Reading >> Review
–Twirling Book Princess >> Excerpt
October 24th
–Padme's Library >> Interview
–The Last Page >> Review
–We Do What We Want Book Reviews & More >> Review
October 25th
–Dark Treasury >> Interview
–YA & NA Bookshelf >> Top 10 List
–Loves Great Reads >> Excerpt
October 26th
–Jena Baxter's Bookworms >> Guest post
–3 Degrees of Fiction >> Review
–FUONLYKNEW >> Review
October 27th
–The Page Unbound >> Excerpt
–Lisa Loves Literature >> Interview
–Moohnshine's Corner >> Review
—
October 30th
– Brittany's Book Blog >> Excerpt
–The Genre Minx Book Reviews >> Review
–Lovely Paranormal Books >> Excerpt
October 31st
–The Attic Ghost >> Review
–Bibliobibuli YA >> Interview
–Movies, Shows, & Books >> Review
November 1st
–The Book Drealms >> Excerpt
–My Lovely Secret >> Review
–Jazzy Book Reviews >> Review
November 2nd
–Alternative-Read.com >> Top 10 List
–Booker T's Farm: Books & Nails & Puppy Dog Tales >> Review
November 3rd
–Dreamland Teenage Fantasy >> Top 10 List
–Book Lovers Life >> Review
–rabid readers book blog >> Review