Hello, everyone! It's time for another book tag!
Many thanks to Nel @Reactionary Tales for tagging me! She has become such a good friend since my blogging days have started.  She is such a wonderful person with an interesting blog about books and animals.  If you have not me Nel, then you are missing out.  So go, go now check out her blog.  I guarantee you will not regret it.
Questions:
How do you keep track of your TBR pile?
I guess you could say I have a date book that I write titles in.  If they have a due date I write it down so I know it comes before others.  Otherwise I lose track of the books I need to review versus the books I want to read just because I love the author.  I also have a TBR list on Goodreads and Amazon.  I don't know how I keep up.  Wait I don't. ha!
Is your TBR mostly print or e-book?
Mostly e-Books.  Most authors who want reviews done now use e-books.  I like to buy used books all the time.  So I would say the ratio is like 75% e-Books and 25% print
How do you determine which book from your TBR to read next?
I am a mood reader.  If there is a deadline on a book I try to get to it first, but if I am not in the mood I will try to put it off as long as I can, till I am in the mood if time permits.
A book that's been on your TBR the longest.
This one has been on my TBR for four years now.  Sad isn't it.  I really do want to read this series, but I haven't had the chance to really get into it.  I actually have the paperback on my book shelf with lots of dust on it.  eek!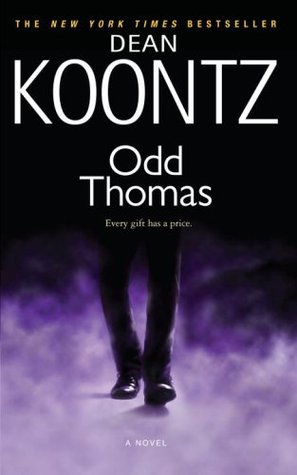 Odd Thomas
"The dead don't talk. I don't know why." But they do try to communicate, with a short-order cook in a small desert town serving as their reluctant confidant. Odd Thomas thinks of himself as an ordinary guy, if possessed of a certain measure of talent at the Pico Mundo Grill and rapturously in love with the most beautiful girl in the world, Stormy Llewellyn.

Maybe he has a gift, maybe it's a curse, Odd has never been sure, but he tries to do his best by the silent souls who seek him out. Sometimes they want justice, and Odd's otherworldly tips to Pico Mundo's sympathetic police chief, Wyatt Porter, can solve a crime. Occasionally they can prevent one. But this time it's different.

A mysterious man comes to town with a voracious appetite, a filing cabinet stuffed with information on the world's worst killers, and a pack of hyena-like shades following him wherever he goes. Who the man is and what he wants, not even Odd's deceased informants can tell him. His most ominous clue is a page ripped from a day-by-day calendar for August 15.

Today is August 14.

In less than twenty-four hours, Pico Mundo will awaken to a day of catastrophe. As evil coils under the searing desert sun, Odd travels through the shifting prisms of his world, struggling to avert a looming cataclysm with the aid of his soul mate and an unlikely community of allies that includes the King of Rock 'n' Roll. His account of two shattering days when past and present, fate and destiny converge is the stuff of our worst nightmares, and a testament by which to live: sanely if not safely, with courage, humor, and a full heart that even in the darkness must persevere.
A book that you recently added to your TBR.
I really  want to get the time to read this one.  Robyn is such a funny author.  She is great.  I enjoy her books.  I guess she would have to be hilarious since her husband is comedian actor Steve Zahn.  🙂
Fashionably Dead in Diapers
And I thought being half Vampyre/half Demon was hard…That's nothing compared to being a mother. Sweet baby Moses in a boob tube, there aren't any books on raising True Immortals so let me give you a few tips…

~Make a map of every closet and bathroom in your home if you enjoy having sex. Sleep deprivation can cause confusion and a map will help if you only have seven minutes and thirty-one seconds. You're welcome.

~Parenting books are useless if you're not human. If your child is half Vampyre/ half Demon I would suggest not using parenting books at all–they can backfire like a mother humper. Trust me on this.

~Have sex.

~When your child tells you he has an imaginary friend, do not discount this as fantasy. Often times your child isn't imagining anything. If he persists with alarming and violent stories about this fictional buddy it's probably a Troll. Do a thorough search of your home and kill it. Decapitation works best. Some imaginary friends are harmless. However, it's wise not to take chances.

~Have sex again.

~When in large crowds, make sure you hold tight to your child's hand. Losing a child in an amusement park is terrifying. If you're truly paranoid a parent could consider putting a chip in their child. If you do this don't discuss it at dinner parties. People will think you are weird.

~At least cuddle.

~Playing with dolls is fun. Being one? No so much. If your child ever finds a Genie in a bottle, flush it immediately. Many children wish for things that are very difficult to reverse…like being doll sized. If this happens, move to Oz. There are many people of small stature there. And yes, it really does exist.

~Find a closet and go to town.
A book on your TBR strictly because of its beautiful cover.
The Hematoi descend from the unions of gods and mortals, and the children of two Hematoi pure bloods have godlike powers. Children of Hematoi and mortals–well, not so much. Half-bloods only have two options: become trained Sentinels who hunt and kill daimons or become servants in the homes of the pures.

Seventeen-year-old Alexandria would rather risk her life fighting than waste it scrubbing toilets, but she may end up slumming it anyway. There are several rules that students at the Covenant must follow. Alex has problems with them all, but especially rule #1:Relationships between pures and halfs are forbidden. Unfortunately, she's crushing hard on the totally hot pure-blood Aiden. But falling for Aiden isn't her biggest problem–staying alive long enough to graduate the Covenant and become a Sentinel is.

If she fails in her duty, she faces a future worse than death or slavery: being turned into a daimon, and being hunted by Aiden. And that would kind of suck.
A book on your TBR that you NEVER plan on actually reading.
Don't get me wrong, I tried to read it, but couldn't.  I watched the movie and it was great.  I just could not get into the book.  Maybe one day……a big maybe.
Also see: Alternate Cover Editions for this ISBN [ACE] 
ACE #1 – ACE #2 

Melanie Stryder refuses to fade away. The earth has been invaded by a species that take over the minds of human hosts while leaving their bodies intact. Wanderer, the invading "soul" who has been given Melanie's body, didn't expect to find its former tenant refusing to relinquish possession of her mind.

As Melanie fills Wanderer's thoughts with visions of Jared, a human who still lives in hiding, Wanderer begins to yearn for a man she's never met. Reluctant allies, Wanderer and Melanie set off to search for the man they both love.
An unpublished book on your TBR that you're excited for.
OMG!  I can't begin to describe how excited I am for this book.  Book 11 left me with a WTF moment.  Jaw dropping on the floor, needing desperately to know what is going to happen next.  October 31st can't get here fast enough.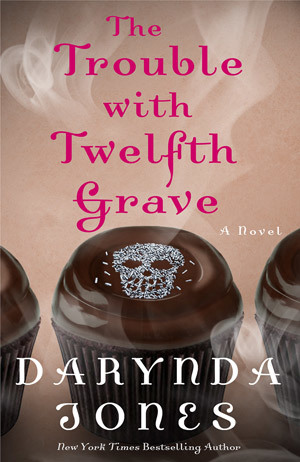 Grim Reaper Charley Davidson is back in the twelfth installment of Darynda Jones' New York Times bestselling paranormal series.

Ever since Reyes escaped from a hell dimension in which Charley accidently trapped him, the son of Satan has been brimstone-bent on destroying the world his heavenly Brother created. His volatile tendencies have put Charley in a bit of a pickle. But that's not the only briny vegetable on her plate. While trying to domesticate the feral being that used to be her husband, she also has to deal with her everyday life of annoying all manner of beings—some corporeal, some not so much—as she struggles to right the wrongs of society. Only this time she's not uncovering a murder. This time she's covering one up.

Add to that her new occupation of keeping a startup PI venture—the indomitable mystery-solving team of Amber Kowalski and Quentin Rutherford—out of trouble and dealing with the Vatican's inquiries into her beloved daughter, and Charley is on the brink of throwing in the towel and becoming a professional shopper. Or possibly a live mannequin. But when someone starts attacking humans who are sensitive to the supernatural world, Charley knows it's time to let loose her razor sharp claws. Then again, her number one suspect is the dark entity she's loved for centuries. So the question becomes, can she tame the unruly beast before it destroys everything she's worked so hard to protect?
A book on your TBR that basically everyone has read except you.
This series is a hot topic.  I am curious about it and have it on my TBR.  One day I will get to it.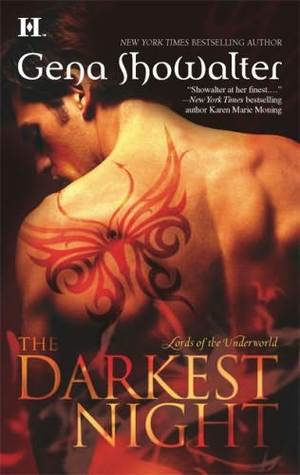 His powers – Inhuman…
His passion – Beyond immortal… 
All her life, Ashlyn Darrow has been tormented by voices from the past. To end the nightmare, she has come to Budapest seeking help from men rumored to have supernatural abilities, not knowing she'll be swept into the arms of Maddox, their most dangerous member — a man trapped in a hell of his own.
Neither can resist the instant hunger than calms their torments… and ignites an irresistible passion. But every heated touch and burning kiss will edge them closer to destruction — and a soul-shattering test of love…
Though they carry an eternal curse, the Lords of the Underworld are irresistibly seductive — and unimaginably powerful…
A book on your TBR that everyone recommends to you.
J.J. Graves has seen a lot of dead bodies in her line of work…

She's not only in the mortuary business, but she's also the coroner for King George County, Virginia. When a grisly murder is discovered in the small town of Bloody Mary, it's up to J.J. and her best friend, Detective Jack Lawson, to bring the victim justice.

The murders are piling up…

The residents of Blood Mary are dropping like flies, and when a popular mystery writer shows up on J.J.'s doorstep with plans of writing his new book about the Bloody Mary Serial Killer, J.J. has to decide if he might be going above and beyond the call of duty to create the spine tinglers he's so well known for. It only clouds the issue and puts her reputation on the line when the attraction between them spirals out of control.

And passions are rising…

J.J and Jack are in a race against time. They discover each victim had a shocking secret, and the very foundation of J.J.'s life is in danger of crumbling when it turns out she's harboring secrets of her own—secrets that make her the perfect victim in a deadly game.
A book on your TBR that you're just dying to read.
A Panicked Premonition
In New York Times bestselling author Victoria Laurie's newest Psychic Eye mystery, Abby Cooper has one rule to follow: don't panic!
Professional psychic and FBI consultant Abby Cooper has used her inner visions to get her out of many a scrape—and solve many a crime—but she's about to face a murder scene that will put all her powers to the test. Abby's husband Dutch has a side business providing security and building panic rooms for wealthy clients. One morning, one of Dutch's partners, Dave, goes missing on his way to meet a client. Abby's intuition tells her something terrible has happened to him.
Then two of Dutch's clients are found brutally murdered…inside their brand new panic room, and most of the evidence points to Dave as the killer.  With the authorities racing to find and arrest him, Abby's got to use all her intuitive prowess to get to Dave first, discover the real killer, and save her husband's business. This is one case where Abby is positive there's far more to this mystery than meets her inner eye…
The number of books on your Goodreads TBR shelf.
180 and that does not include the books list on Amazon.  Agghhhh!!!!!!!!  So many books so little time.  
I tag:
Tag your it!
As always, no pressure! You can feel free to skip it. Just have fun with it 🙂
If you are up for doing this tag, you're very welcome. Consider yourself tagged and go ahead! Just link back to me so that I can read your lovely answers ❤
It has been a blast to do this tag!  Thanks again to my  pal Nel @ Reactionary Tales for tagging me.  🙂