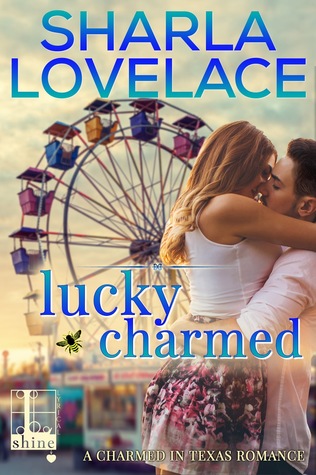 Charmed, Texas, is as warm and welcoming as it sounds. But even in a small town, when it comes to love, sometimes you've got to take the bitter with the sweet . . . 
Carmen Frost hates honey. And bees. And in her hometown of Charmed, Texas, which practically invented the stuff, that's a problem. The good news is that the summer Honey Festival is finally over. Even better, so is the annual Lucky Hart carnival, a road show that made off with her dreams years ago—including the boy she loved. Now she's got a divorce behind her, and a successful law career in front of her, but in a tiny town, big memories die hard. Or they don't die at all—as Carmen discovers when she runs into an all too familiar pair of eyes—older, wiser, and just as heart-melting as ever . . .
Sully Hart has had enough of the nomad lifestyle. Travelling with his father's carnival gave him adventures, but it cost him much more. Now he's home to stay, contracted to create an entertainment complex in Charmed. He wants roots, a house with a yard and all the mundane pleasures that go with it. But the girl he loved has become a woman who still wants freedom. Can she still want him? It seems he and Carmen are at each other's throats one minute—and on each other's lips the next. Someone's gotta give . . .
File Size: 925 KB
Print Length: 217 pages
Publisher: Lyrical Shine (July 18, 2017)
Publication Date: July 18, 2017
Sold by: Penguin Random House Publisher Services
Language: English
ASIN: B01MCX9DWS
Text-to-Speech: Enabled
         
Oh, I really loved this book. It was a roller coaster of emotions. This is the first book I have read by this Author. I was really impressed and hooked from the beginning.
In this book you have Carmen, who was left in a parking lot 15 years ago, waiting for her love, a carnie, to pick her up. Only to be heart broken when he doesn't show. Then you have Sully, boy who left said girl 15 years ago. One day she bumps into him, like literally bumps into him, in the grocery store. She is angry and speechless. He is now a grown man, who has grown up well. Then she finds out he had bought a house and is laying down roots, while she is running away. Can Carmen figure out what she wants in life? Or will she be the one running away for good this time?
I really loved this story. It is definitely a different type of plot than most romances. The characters have a lot of emotional baggage to work through. They are strong minded and interesting. I cried several times right along with them. I love a good romance.
I did not realize this book was part of a series. It definitely can be read as a standalone novel. I am definitely going to check out more books by Sharla Lovelace. I am a new fan!! If you like a good romance and don't mind a sappy rad, then this book is for you.
*ARC provided by Netgalley.