Review|Curves, Kisses and Chocolate Ice Cream
by
Sue Watson
(Goodreads Author)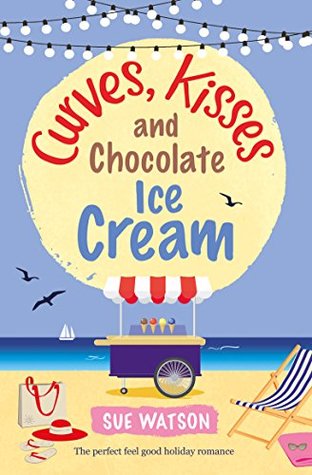 Dani's on a mission to get her life back on track by the end of the Summer. Running, rowing, aerobics and more, but perhaps all she needs are sweet treats and a second chance?
Twenty years ago, Dani fled Appledore with a broken-heart and a suitcase full of shattered dreams. Only now is she brave enough to put her past behind her and return for a summer selling homemade ice-cream and getting fit by doing sit-ups by the sea.
But the new-look cafe is filled with old memories of Jude, her teenage sweetheart-turned-sour. She thinks of him every time she swirls warm sauce onto a "chocolate-bockaglory" and even with the help of Chris, her gorgeous personal trainer, the urge to break her diet is everywhere she turns.
When Jude makes an appearance at the cafe on the eve of Dani's birthday party, history threatens to repeat itself. Is Dani strong enough to say no? And is the love she's been longing for much closer than she thinks?
A truly delicious, laugh out loud beach read that's guaranteed to melt your heart. Perfect for fans of Lucy Diamond, Jenny Colgan and Debbie Johnson.
What people are saying about Sue Watson:
'At one point I choked on my coffee I was laughing so much! With characters you really care about Sue Watson has written a book that will keep you captivated until the very last page.' The Book Review Café
'Oh guys, this book wowed me totally! It's going to warm your heart, break your heart as well, and make you laugh. It's a perfect mix of every feeling possible. It's a compelling, captivating, optimistic read and I highly recommend it!' On My Bookshelf
'The story is just wonderful. It truly is heart-warming and hilarious, but also connected with serious issues.' Liina Reads
'This book is a delight, perfect for curling up with a glass of wine and a bar of chocolate or cupcake in hand. This was a fabulous, humorous, easy read which I devoured in two sittings.' Shaz's Book Blog
'Sue Watson did it again! Every single word in her stories is sweetened with chocolate, vanilla and cupcakes and there is no way you'll feel down after reading them…Totally recommended!' Chick Library Cat
'Heartfelt and warm, and perfect for the holiday season. Highly recommended.' Any Good Book
'I never thought I'd laugh and cry as much as I did while reading this book. I wish I could give it 10 stars! I loved this story and hope others do too.' The Final Chapter
'I genuinely laughed out loud reading Bella's Christmas Bake Off. It was a lovely, relaxing read, and one that really cheered me up. It has the perfect recipe of laughter, happiness and a little romance thrown in…I absolutely loved this book, it is a fab Christmas read and I highly recommend it. I give Bella's Christmas Bake Off 5 Stars.' Tea Lady Mumbles
'This does exactly what it says on the tin. It's funny and heartwarming, sad and heart-breaking, all at the same time.
Release Date 06/27/2017
My Review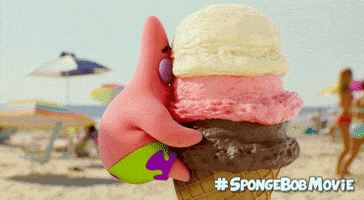 This is the second book from Sue Watson that I have read.  Also, this is the second in The Ice Cream Cafe' series.  This series tells stories using real life issues that people deal with.  They are cozy romantic comedies, but with a dose of serious reality.
In this book you have Dani, who is a curvaceous girl who is out of shape and unhappy in life.  Dani works at the Caprioni's Cafe'.  She decides that she is going to change her life and joins a gym.  At the gym she meets the owner Chris, who decides he is going to help her to reach her goal.  First day at the gym is a disaster as is the second and third.  She has all but given up hope?  Can Chris help Dani become a better person?  Will Dani be her own worst enemy?
This book was a really great read.  It did start a little slow, but it was building up Dani's story.  Dani is struggling with some real deep issues in her past.  This causes her to binge eat.  She doesn't truly understand what it means to have friends or even love of family in her life.  Chris has his own demons as well, but he is determined to help Dani.  They build a wonderful friendship.  These two characters are so strong and determined to make a better life for themselves.  Of course the old gang from book one Ella's Ice Cream Summer are there to cheer her on and show her what life can be like.  I really enjoyed this book.  Ms. Watson is a wonderful writer.  She has such a great way of incorporating every day struggles into a well written cozy book.  She is witty and her books will make you laugh out loud.  If you have not picked these up you should.  They are wonderful.  I give this book 5 Stars.
*ARC provided by Netgalley
About Sue Watson
(author bio and picture courtesy of Goodreads/Amazon)
Born: Manchester, The United Kingdom  
Goodreads Member Since September 2011| https://www.goodreads.com/suewatson
Sue Watson was a TV Producer with the BBC who combined motherhood and family life with a busy career. However, one day it dawned on Sue that Cosmo magazine may have been telling porkies about 'having it all,' and her life had become a slightly crazed juggling act.
So after much soul searching (and comfort eating) Sue abandoned her TV career, bought a pink laptop and wrote a novel. 'Fat Girls and Fairy Cakes,' tells the story of Stella Weston, whose life is a constant struggle with a nasty boss at work, the weighing scales and being a mum, wife and daughter.
Originally from Manchester, Sue now lives with her husband and teenage daughter in Worcestershire. When she's not toiling over her latest novel, Sue bakes (and eats) cake and enjoys very large tubs of Caramel Chew Chew ice cream all to herself while watching 'The Biggest Loser USA.'
Sue's second book, 'Younger, Thinner, Blonder' was released in October (2013) and her third book 'Love, Lies and Lemon Cake' is released on June 27th 2014.
Find this and all great reads from this blog at My Amazon Astore.