I was tagged in the "Unpopular Opinions Book" tag by Inspiration Pie .  I have recently connected with her.  I love her posts.  She not only talks about books, but all walks of life.  She is sweet and entertaining with her posts.  She engages with other bloggers and even makes comments on posts.  She takes the time to read and be interested in the rest of us.  You should check out her blog.  
A POPULAR BOOK OR BOOK SERIES THAT YOU DIDN'T LIKE:
I've heard so many people saying how much they love these books, and how they can't put them down.
I said ok let's see what the hype is.  So I started reading them.  They started out pretty good.  I got to about book 7 and I got bored with it.  I mean damn there are 46 books in the series and I was like the story seems done now, why bother continuing.  This series just seems as if they are dragging it out.  Again this is my personal opinion. Nope.  Not for me!  Not a fan.
A POPULAR BOOK OR BOOK SERIES THAT EVERYONE ELSE SEEMS TO HATE BUT YOU LOVE:
I just don't know.  Every book or series I loved are usually loved by everyone else too.
AN OTP (ONE TRUE PAIRING) THAT YOU DON'T LIKE:
Ok, so this is my favorite series.  I mean I absolutely love this series.  But!  Yes, I said but.  The OTP in the book is Lexi & Slash.  Lexi is Ms. Geek girl and Slash is the secret agent.
Let me explain my but!!!  I really think that Lexi should be paired up with Elvis.  Yep!  I said Elvis.  He is one of the super smart, awkward, geek boy, genius wonder.  Lexi and him have such a magnetic chemistry.  I hope secretly Julie will write them in together one day.  Ahhhhhhh……  A girl can dream right.
A POPULAR BOOK GENRE THAT YOU HARDLY REACH FOR:
The Fallen Angel series.  I love JR Ward.  She is an amazing author.  I have all the books in this series.  Have had them for a few years.  One problem.  I only have read two.
I know!  I know!  What is my issue?  Well, I just can't get into these for some reason.  I just don't know why.  I mean they are not bad books and she has incorporated some BDB characters in them.  But I just can't seem to finish the series.  Maybe one day…….
A POPULAR/BELOVED CHARACTER THAT YOU DO NOT LIKE: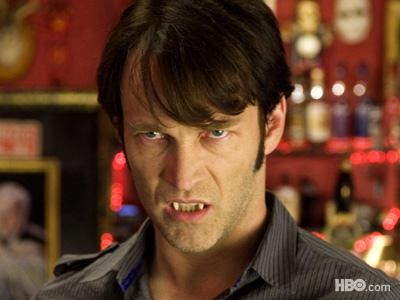 Ok I know Bill Compton Bon Tomps first Vampire is everyone's favorite for Sookie Stakehouse.  But.   I know I said but again!  He is a butthead!  In the series (the books not the show), he really does betray her.  I just can't seem to forgive him for that.  Plus he's bossy and whiny.
A POPULAR AUTHOR THAT YOU CAN'T SEEM TO GET INTO:
Jane Austin.  I just can't seem to read her books.  I like romance books, but maybe I just like the modern-day romance books.
A POPULAR BOOK TROPE (OVERUSED PLOT DEVICE) THAT YOU'RE TIRED OF SEEING:
Really!  Who wants to have sex with their step sibling.  I mean you are now family.  Just my opinion.
A POPULAR SERIES THAT YOU HAVE NO INTEREST IN READING:
I know!  I know!  Everyone says that this is a great series.  But I just can't seem to bring myself to pick them up.
THE SAYING GOES "THE BOOK IS ALWAYS BETTER THAN THE MOVIE", BUT WHAT MOVIE OR TV SHOW ADAPTATION DO YOU PREFER MORE THAN THE BOOK?:
I could not read the book.  It bored me!
Loved the movie! 
I Tag:
Everyone!